Scroll →
Swipe →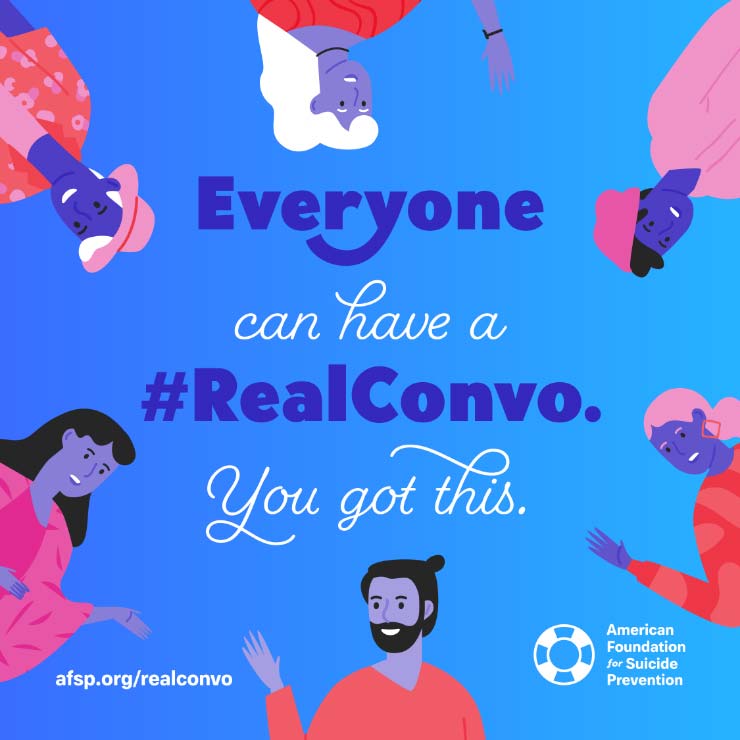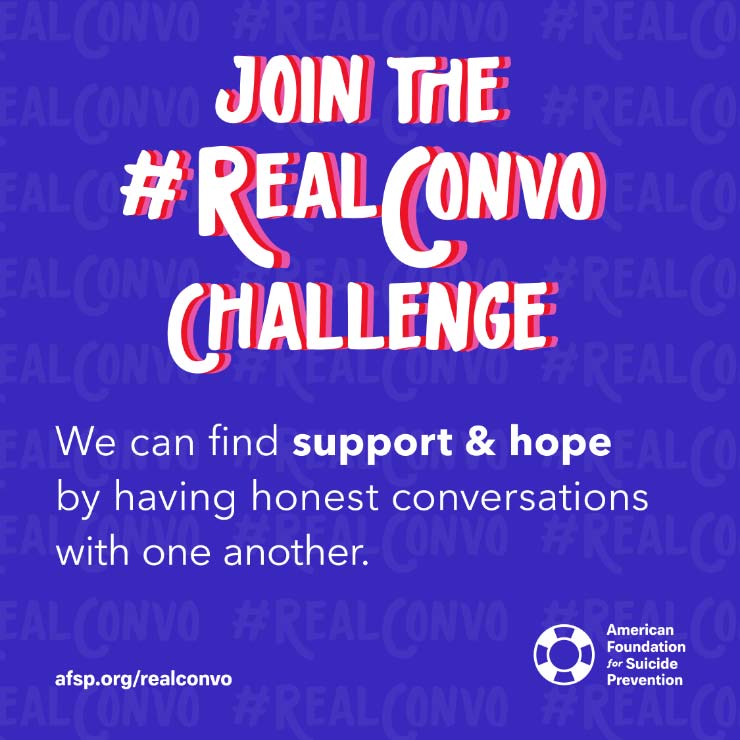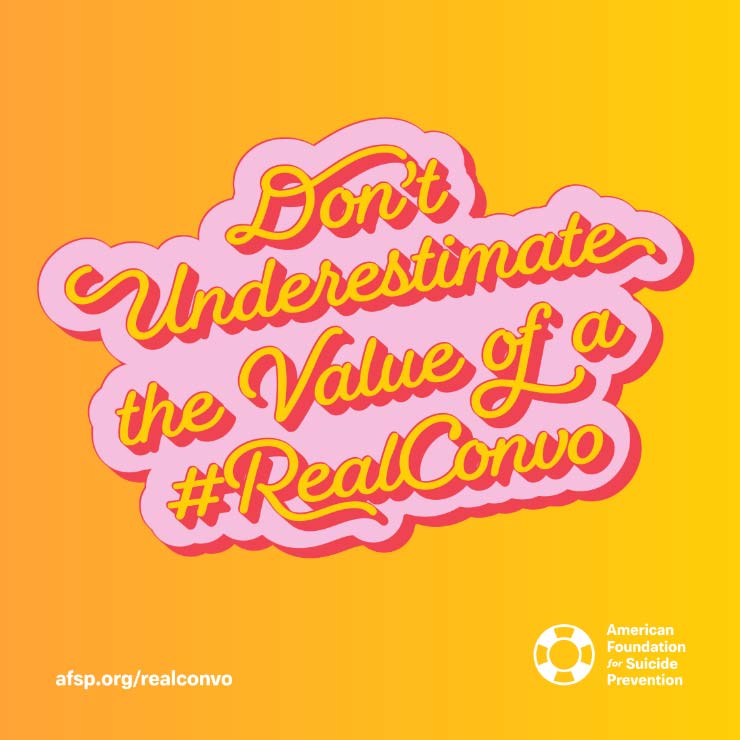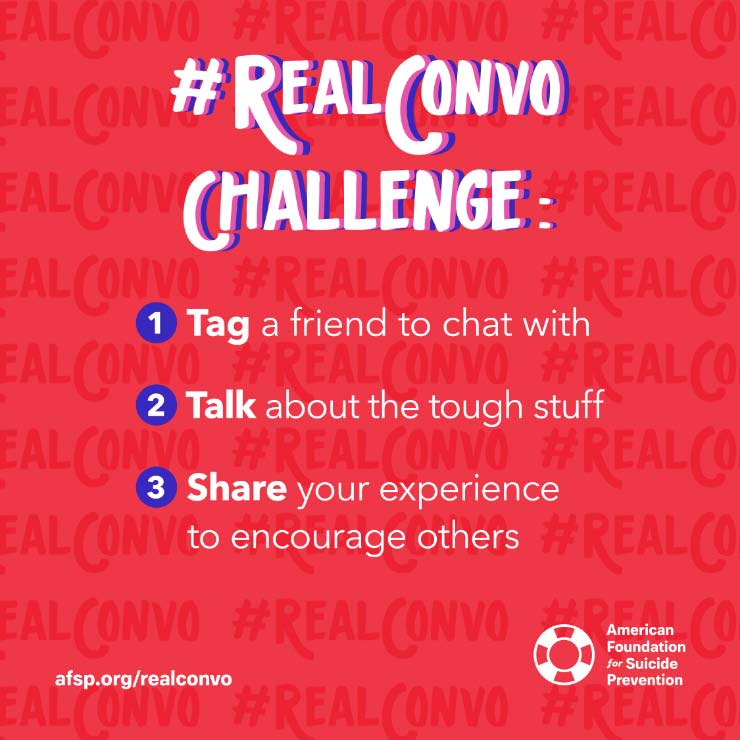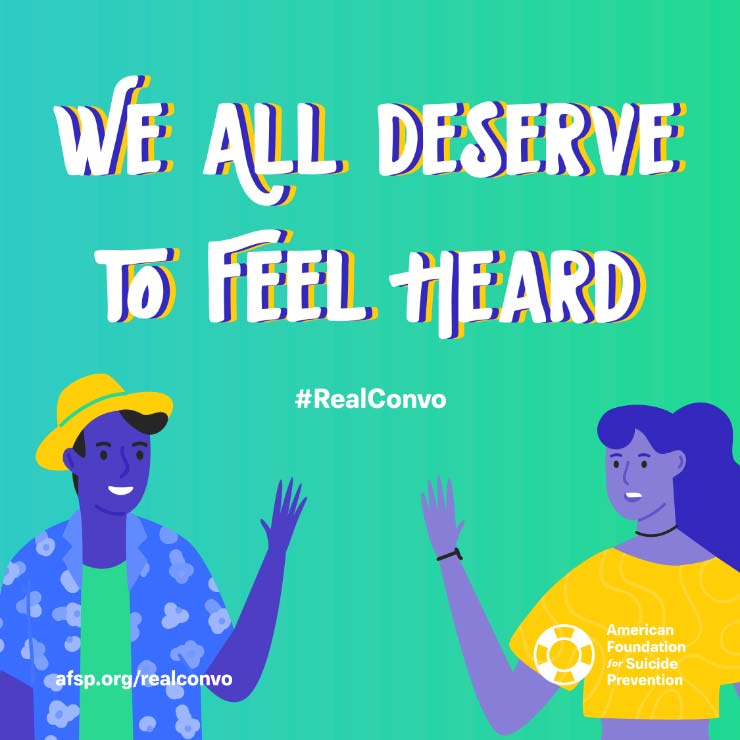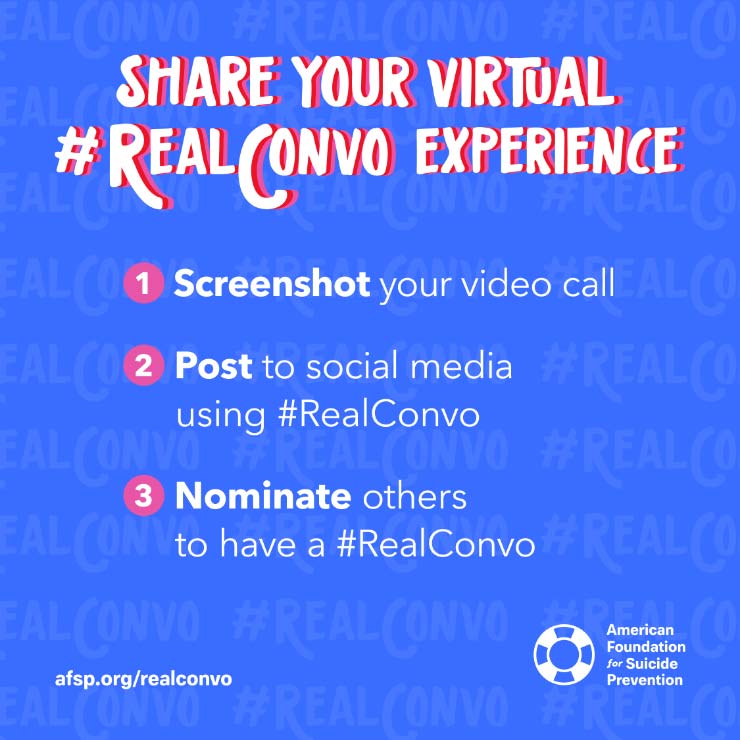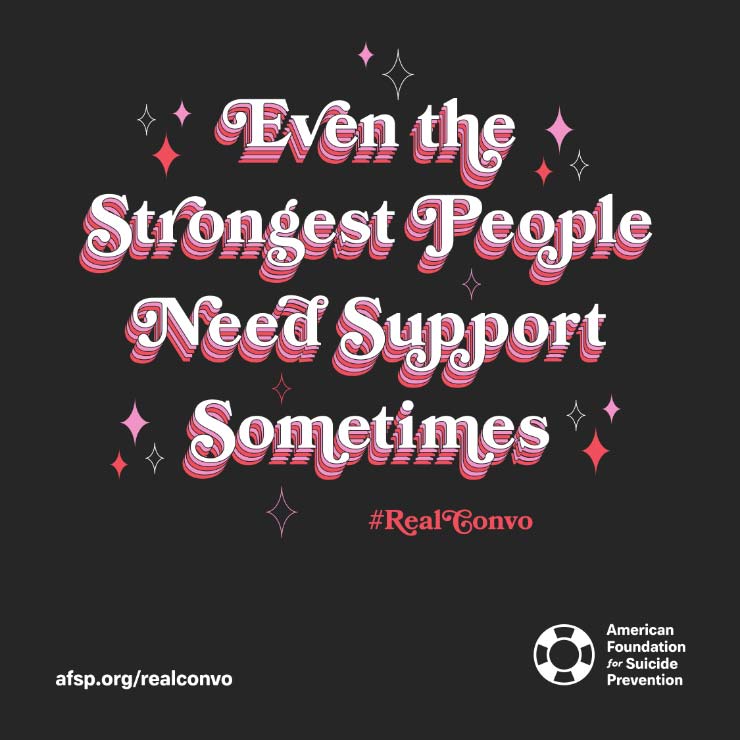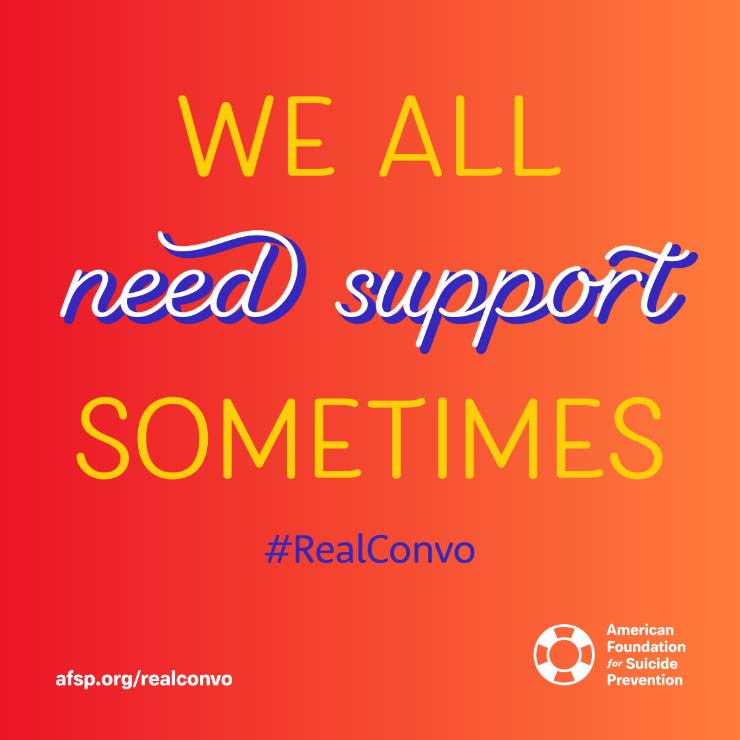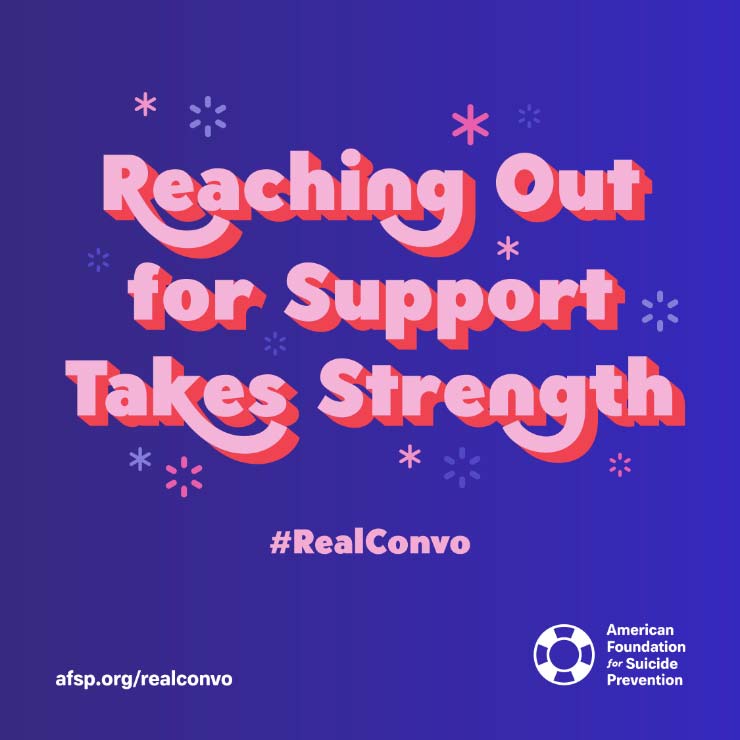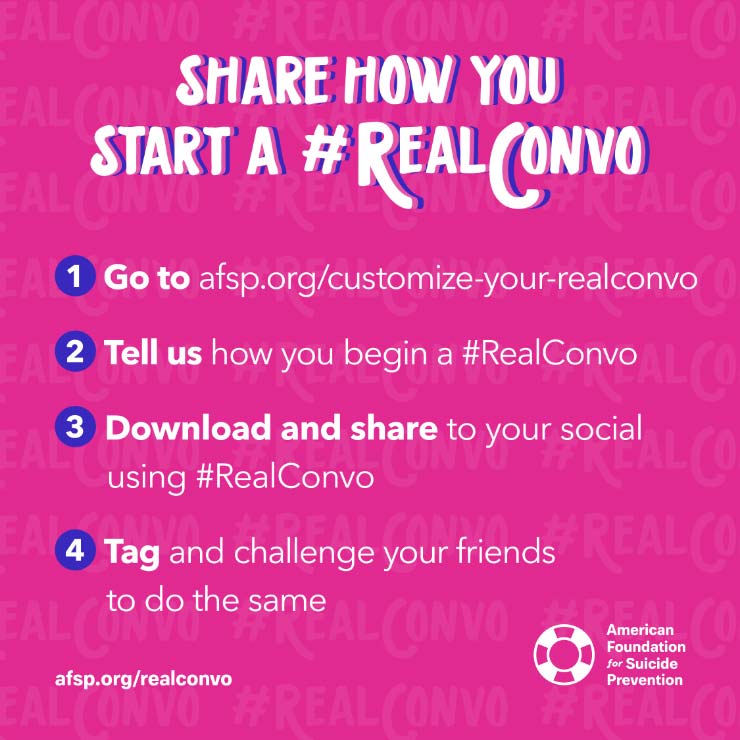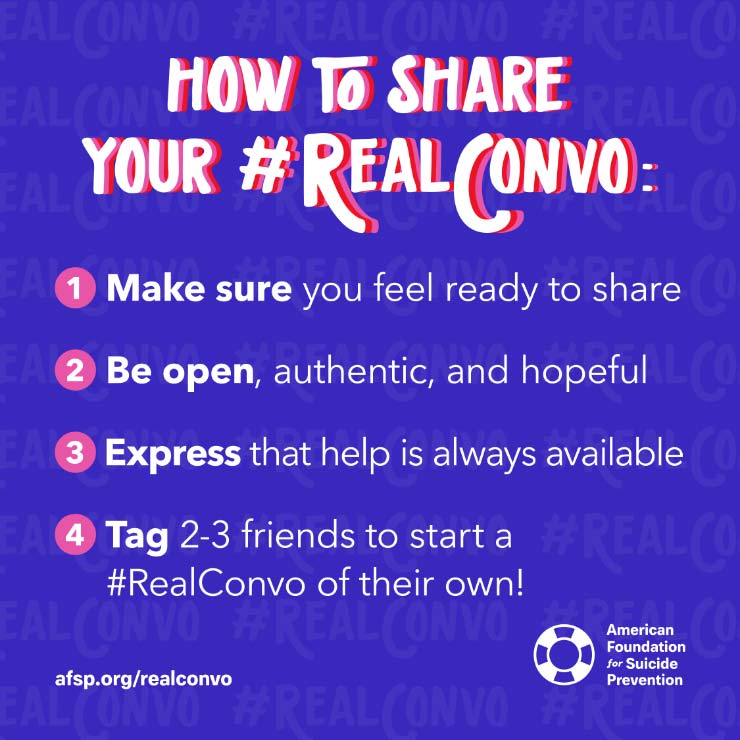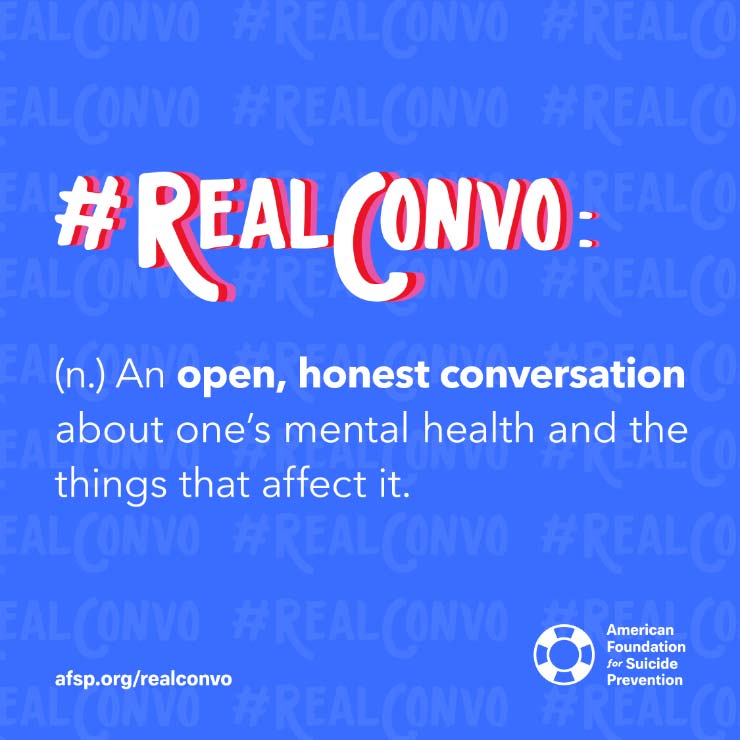 ← Back
← Swipe
Creating A Culture That's Smart About Mental Health
In our campaigns throughout the year, and in our messaging on social media and beyond, we create a culture that's smart about mental health, and bring suicide out of the darkness.
---
Having a #RealConvo
for Mental Health
Awareness Month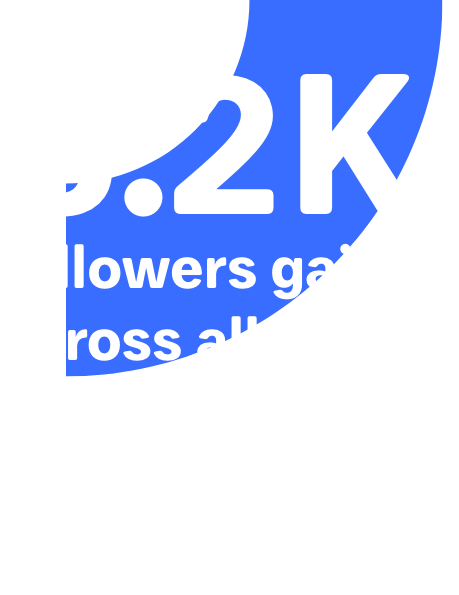 For Mental Health Awareness Month in May, we inspired people to have open, honest conversations about mental health by building on our #RealConvo campaign. We partnered with top influencers and celebrities including Rebecca Black, ALOK, and Andy Lassner, and created short animated videos to introduce our newly designed #RealConvo Guides (available in English and Spanish), which offer practical advice on how to talk to someone you care about.
Social media was a great way to engage our audience throughout the course of the month. We partnered with Instagram to use a new product, the Challenge Sticker, through which users could nominate their friends on Instagram Stories to participate in the challenge to have a #RealConvo! Our illustrator friend Holly Chisholm created a custom Augmented Reality (AR) #RealConvo filter for Instagram Stories, which by the end of the month had been used nearly 5K times.  We also gave our AFSP audience a new way to engage their followers across social media with custom GIPHY stickers. Lady Gaga used one of the custom stickers on her Instagram, bringing attention to mental health awareness for her 42.8M followers!
Our partners for the month included Netflix, Universal Music Group, Stamp Out Stigma, Now This, Bloomberg News, Dow Jones, and many more. Our May web page included resources, graphics, stories, and a calendar of events throughout the month, including Twitter Chats and media appearances by AFSP experts Dr. Christine Moutier, Dr. Doreen Marshall and Dr. Jill Harkavy-Friedman.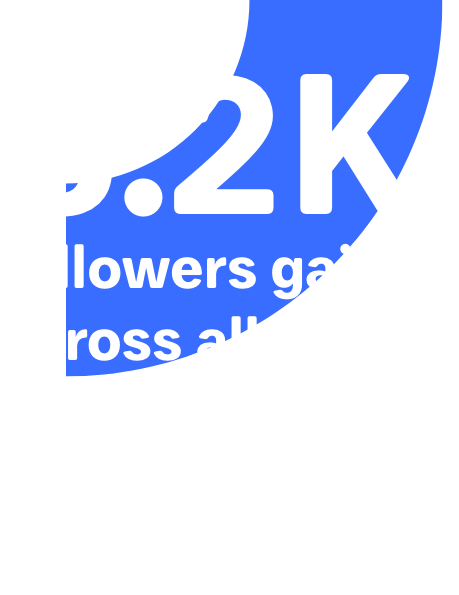 15K
web page views
throughout
the month
3.8K
Real Convo
t-shirts sold
teams
102
new digital
marketing graphics
---
National Suicide
Prevention
Awareness Week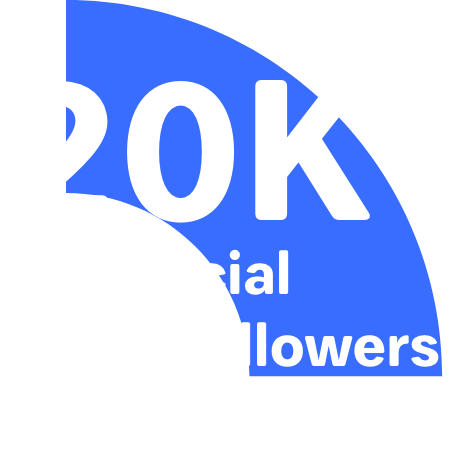 A national Harris Poll co-sponsored by AFSP showed that more than half of all Americans have become more open to talking about mental health since the start of the pandemic, and 81% said that as a result of the pandemic, it is more important than ever to make suicide prevention a national priority. For National Suicide Prevention Awareness Week in September, our #KeepGoing campaign let people know they don't have to be a mental health professional to make a difference in the fight against suicide.
From learning the warning signs for suicide and what to do if you are worried someone is struggling, to advocating for smart suicide prevention legislation, to having a #RealConvo about your own or others' mental health, to bringing education programs to your community, we can all learn new ways to help each other save lives. Together, we #KeepGoing.
Collaborating with public figures including Dominique Jackson, Theo Rossi, Rebecca Black and others throughout the month, we launched a new #KeepGoing Instagram Guide filled with inspiring content from social influencers. Our packed calendar of events throughout the month included a panel discussion in collaboration with Aetna/CVS Health on the growing rates of suicide across America; an appearance from Dr. Christine Moutier on "I'm Listening," a live two-hour special bringing together artists and athletes including Katy Perry and Jon Bon Jovi to discuss mental health, which was broadcast across more than 230 Entercom stations and RADIO.COM livestream; and a special roundtable also featuring Dr. Moutier with Universal Music Group for a discussion of mental health in the Hispanic and Latinx communities.
Other highlights for the month included:
• Our #KeepGoing-theme Twitter chat with the National Alliance on Mental Illness, the JED Foundation, the Human Rights Campaign, Movember, and the American Association of Suicidology = 26.7M impressions
• An Instagram Live presentation in collaboration with Self Care is for Everyone, featuring Dr. Doreen Marshall = 19.2K views
• During National Suicide Prevention Month, we reached 100K followers on our national Twitter account!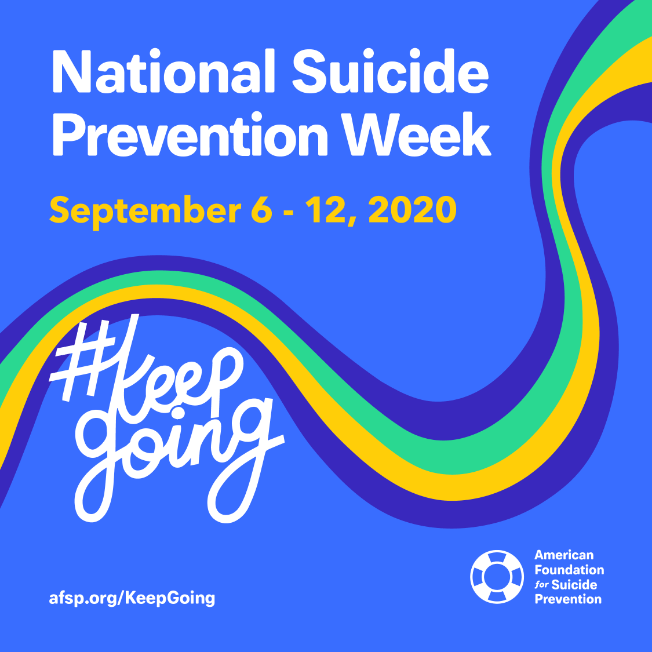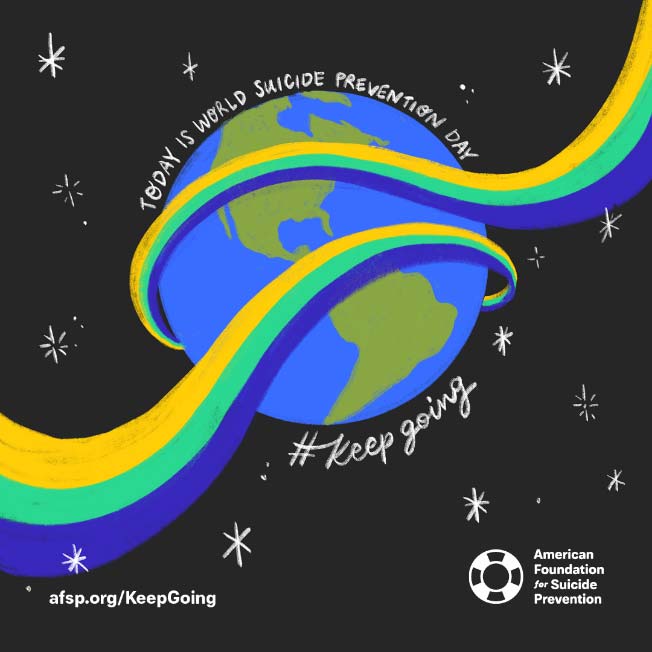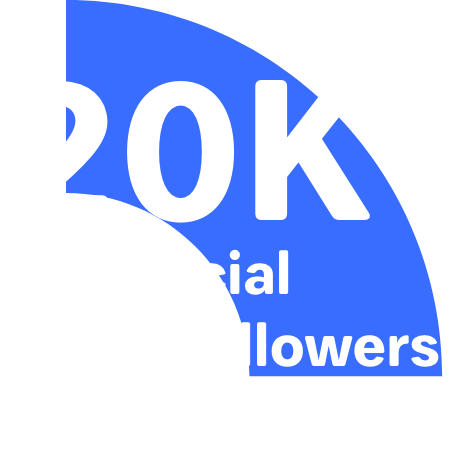 ---
Seize the Awkward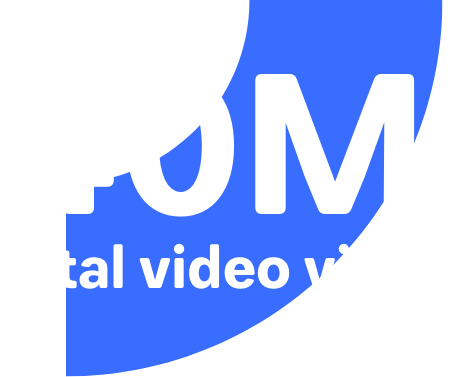 Our Seize the Awkward campaign, in partnership with The Jed Foundation (JED) and the Ad Council, launched brand new resources to help young people manage their mental health and be there for their peers during the coronavirus pandemic. The campaign released a music video, "Whatever Gets You Talking," featuring rapper Akinyemi, pop icon Meghan Trainor and music and digital stars Addison Rae, Avery Cyrus, and others.
Seize the Awkward, which won a Shorty Award for a video featuring pop star Billie Eilish, also premiered a new video this year in which musician Noah Cyrus spoke openly about a difficult period in her life, and how she got through it.
29.4K
Instagram
followers
1.7K
video likes
64K
video shares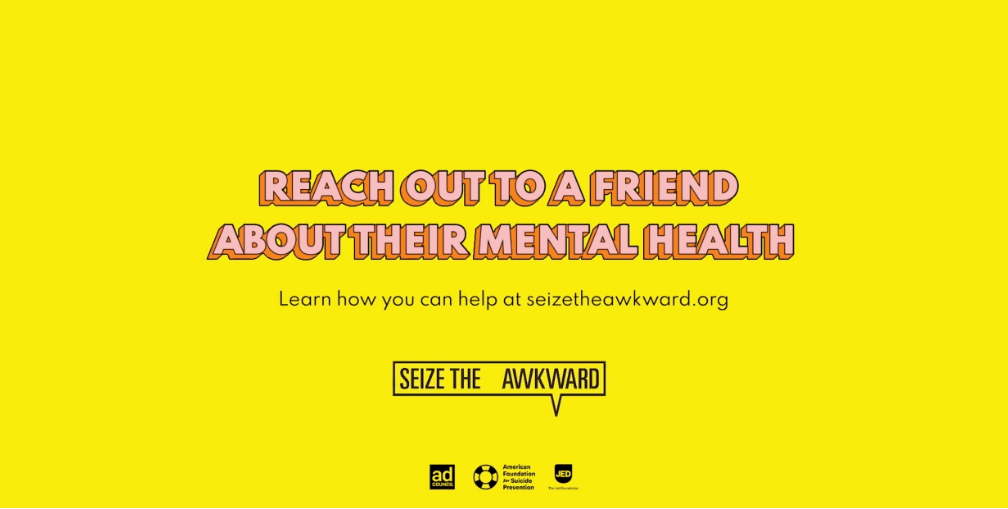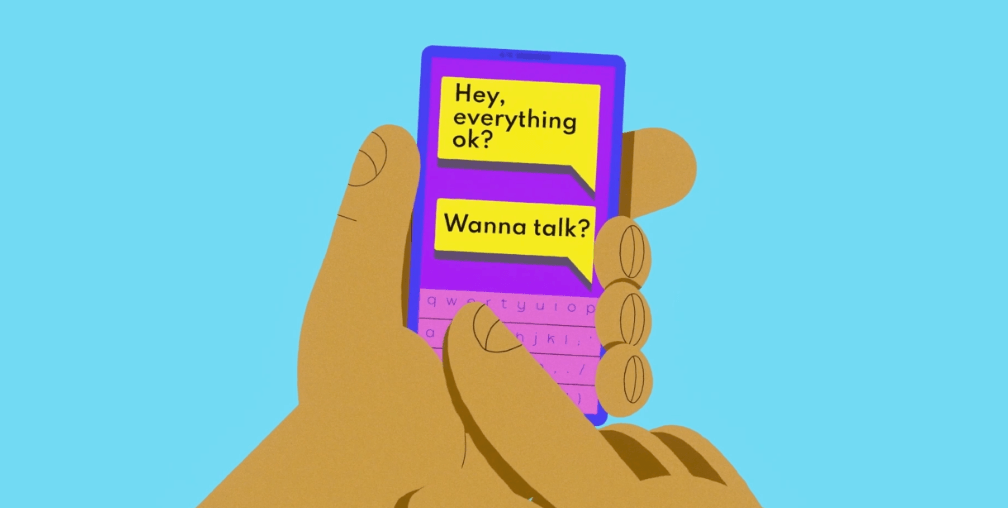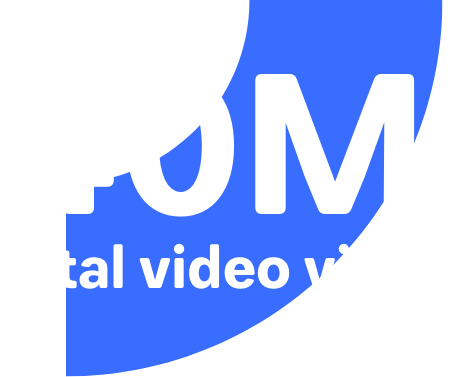 ---
Offering Strength,
Understanding
and Hope Through
the Pandemic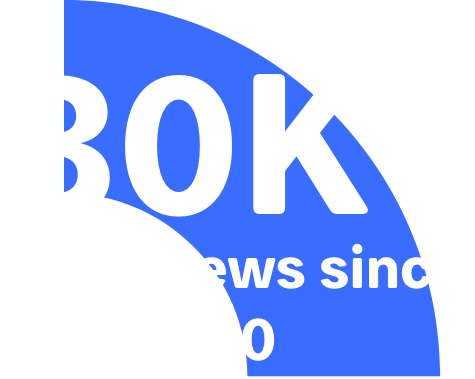 Explore our COVID-19 resources at afsp.org/covid19
When the COVID-19 pandemic struck the U.S. in March, it quickly became clear what role we needed to play. AFSP soon became a source of information, understanding and support as we all, as a nation, collectively weathered the strains on our mental health caused by the pandemic.
Just as suicide is never a foregone conclusion, we knew there was reason for hope. We have never been through a situation exactly like the one the world is experiencing now. The effects of the virus on our daily lives – from quarantine and the need for physical distancing, to concerns about job security, school, and other aspects of our lives – put a toll on our mental health, and may well have exacerbated the symptoms experienced by those already living with mental health conditions. But by spreading education and awareness, and encouraging people to be proactive about their own mental health and that of the people around them, we knew we could play an important role in keeping people safe.
Our Mental Health and COVID-19 webpage toolkit offered guidance, messages of hope and resilience, and virtual programs to help communities and workplace employees stay connected.
We created an easily shareable social media guide featuring content created by AFSP experts to help spread positive messages of hope, compassion, mental health care and suicide prevention.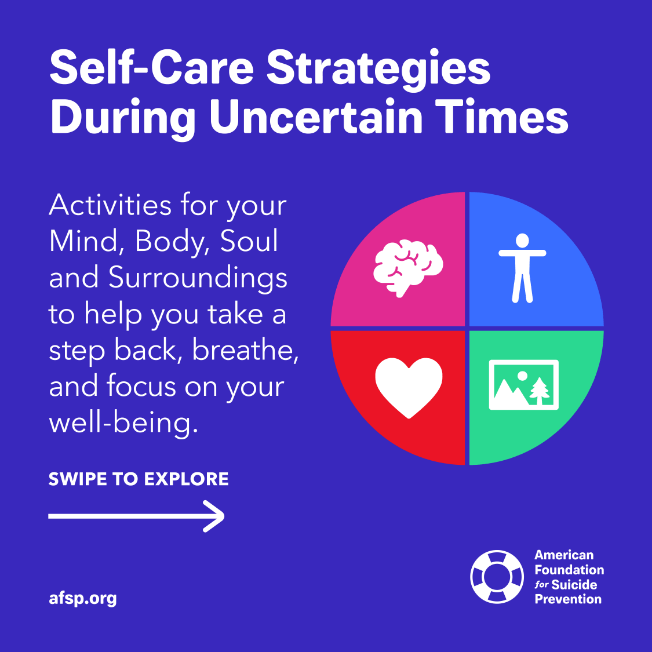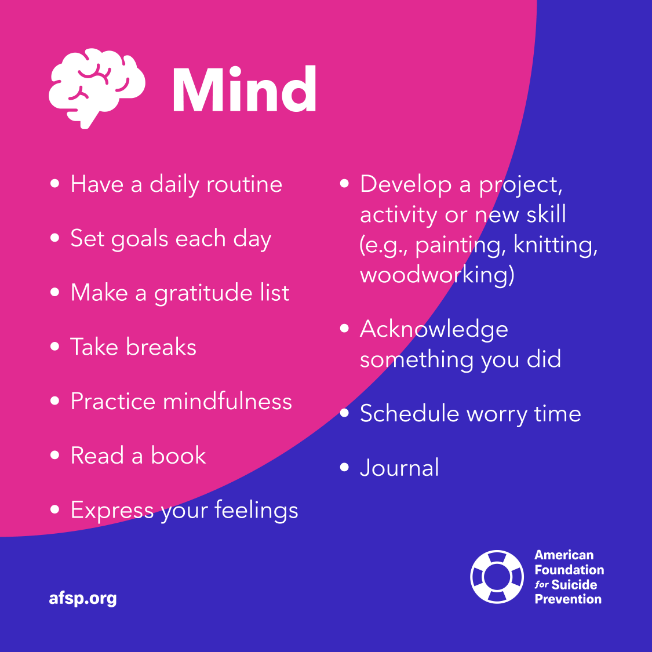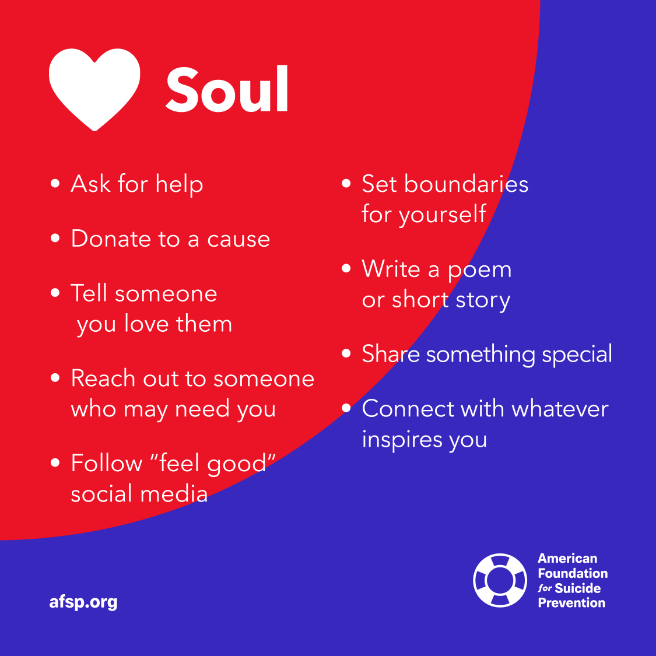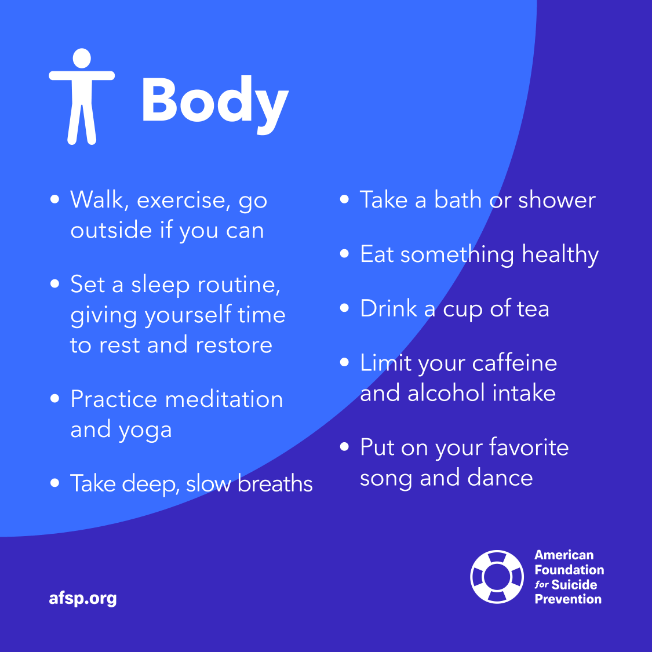 Explore our COVID-19 resources at afsp.org/covid19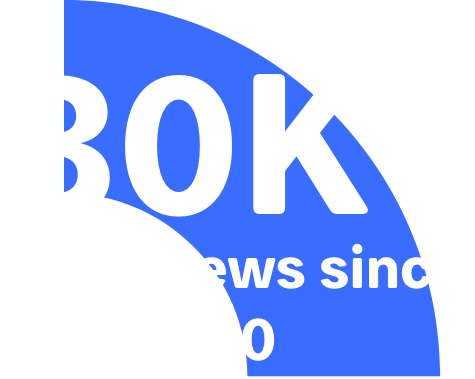 ---
Our Experts Became
Much-Needed Sources
of Guidance as the
Pandemic Continued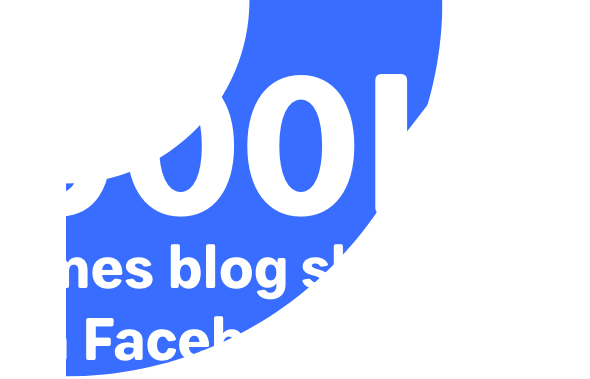 Dr. Christine Moutier, AFSP's Chief Medical Officer, suggested mental health tips for those coping with COVID-19 during several CNN Town Hall specials with Anderson Cooper and Dr. Sanjay Gupta.
Dr. Christine Moutier also hosted a livestream with NowThis to discuss how to protect your mental health during COVID-19, which was viewed 72K times and reached over 300K people.
Also in the early days of the pandemic, Dr. Moutier and Dr. Jill Harkavy-Friedman, our Vice President of Research, co-authored an important paper featured in The Lancet regarding suicide risk and prevention during the time of COVID-19.
The blog article Protecting Your Mental Health During the Coronavirus Outbreak, written by Dr. Doreen Marshall, our Vice President of Mission Engagement, was our top performing Instagram post in March.
Dr. Marshall also went live on Instagram with NowThis to answer questions regarding how to cope with uncertainty and protecting your mental health during the pandemic.
Instagram included AFSP as one of their expert organizations to introduce its new Guides product on their owned channels, and shared AFSP's #RealConvo and Mental Health and COVID-19 Guides on the main Instagram account as part of the launch.
AFSP was highlighted in Facebook's public toolkit, shared with account managers as best-in-class examples for COVID-19 activation for other advertisers. 
We also partnered with other mental health organizations on Kenneth Cole's 'How Are you Really' campaign, which leverages the voices of celebrities, influencers and advocates, and popular culture to discuss mental health in an open, authentic and provocative way. 
25K
reached by
livestream
with 7K views
364M
reached on
Instagram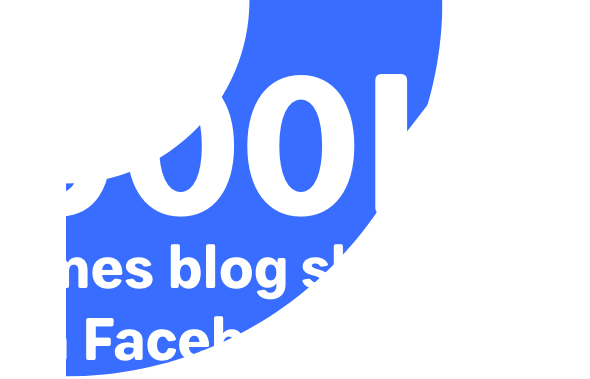 ---
Making Diversity
and Inclusion a Priority
The American Foundation for Suicide Prevention condemns racism and prejudice of all types, and we are actively working to eliminate injustice in our field of mental health and suicide prevention. As an organization, we acknowledge that institutional racism, systemic poverty, blatant discrimination, and unconscious bias impact the daily lives of Black families and people of color, and that this directly impacts their mental health.
We are committed to addressing the disparity in mental healthcare access, advocate for ending these disparities, and stimulate new suicide research to support underrepresented communities.
The AFSP family has reflected on what we can do to affect positive change in diversity and inclusion, and we have taken the following initial steps:
Improving Cultural Competency and Organizational Diversity and Inclusion Practices. We are implementing a cultural competency training curriculum for our staff, and will be extending that training to chapter volunteer leaders. We have also expanded on our recruitment policies to increase diversity on our National and chapter boards to better reflect the communities we serve.
Building Partnerships and Program Implementation. We have launched a renewed effort to collaborate with external experts and organizations from underrepresented groups to help us address implementation of the goals and strategies on diversity and inclusion as outlined in our three-year strategic plan. A Diversity Programs Taskforce was organized in 2019, and is actively working to ensure that our educational programs for the Black community and other underrepresented groups are both culturally informed and evidence-based.
Stimulating and Funding Research Related to Underrepresented Racial and Ethnic Groups. With the support of AFSP's Scientific Council, for the 2020-2022 AFSP Research Grants Cycle, we are including a new Priority Focus Area for suicide research related to underrepresented communities, health and mental health disparities and inequities, as well as researchers from underrepresented groups who are proposing research on understanding and preventing suicide.
Elevating the Voices in Our Field with Expertise in Diverse Communities. We are convening leading experts in mental health and suicide prevention from diverse communities to help elevate voices, improve public understanding of their range of experiences, and support their unique needs.
We have much more work ahead of us and are committed to a long-term effort to change our culture and reverse the impact of systemic racism within the field of mental health.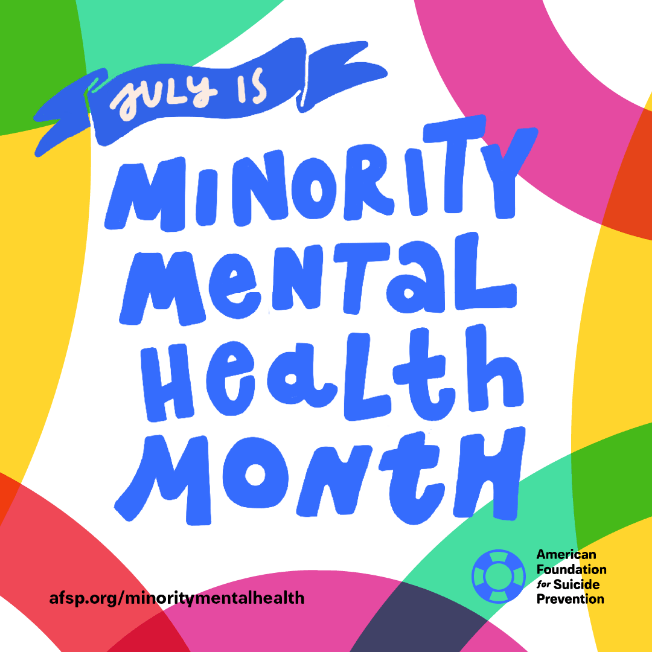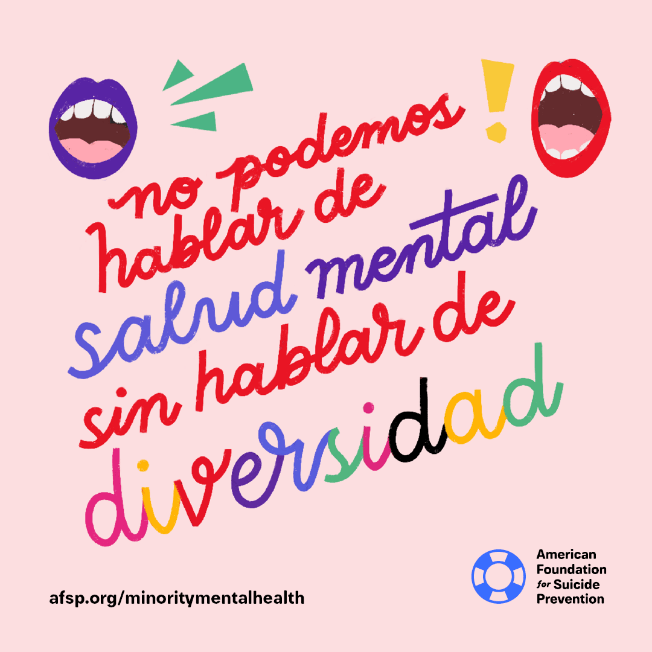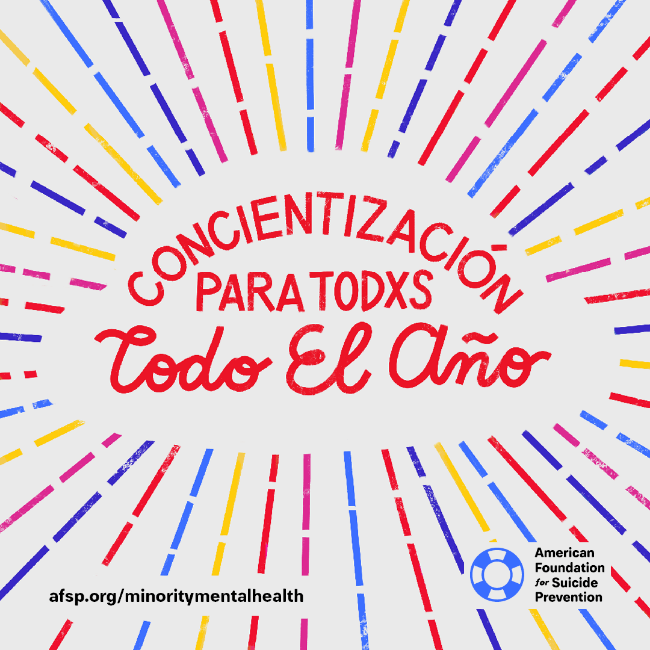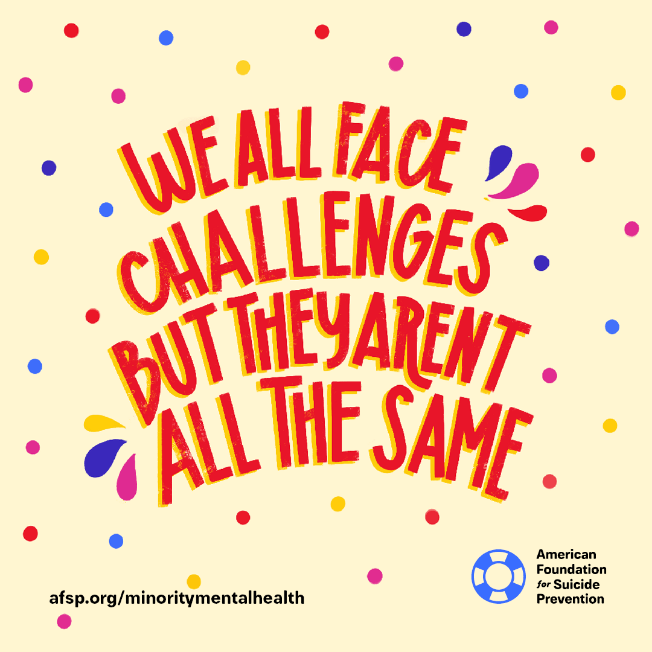 Continuing the
Conversation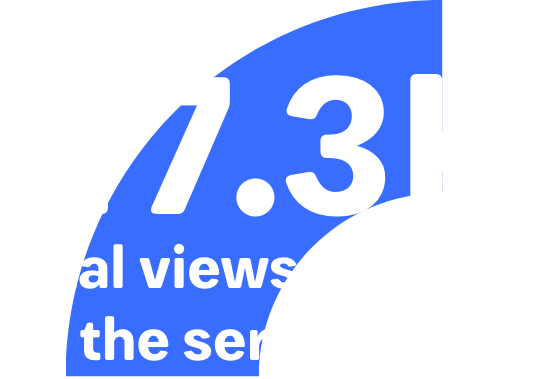 We launched a new town hall series, Elevating Voices for Long-Lasting Change, a series of live discussions addressing the unique mental health and suicide prevention needs of underrepresented communities. Moderated by our Chief Medical Officer, Dr. Christine Moutier, and including special guests, topics have included "Mental Health in the Black Community," "Supporting Mental Health in Communities of Color: Ways Forward," and the role of advocacy and policy in supporting inclusivity in the realm of mental health.
A special episode of Ask Dr. Jill, in partnership with The Mighty on Facebook Live, hosted by Vice President of Research Dr. Jill Harkavy-Friedman, with guest Dr. Rhonda Boyd from Children's Hospital of Philadelphia, concentrated on the topic "Addressing Mental Health in Diverse Communities."
Dr. Moutier also participated in a Viacom/CBS Inclusion Week panel, "The Stigma: It's Okay Not to Be Okay," alongside KCBS news anchor Pat Harvey, actor Wayne Brady, and others, on fostering communication about mental health in diverse communities.